On page 48, Fudebakudo describes the use of cats in hand-to-hand combat. When I was researching this unusual activity, I missed Jeff de Boer's astonishing armour for cats.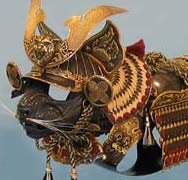 The original impetus for Fudebakudo's Battle Cats of Burma story was triggered on a trip out of Bangkok. Idly flicking through the Thai Airways in-flight magazine, a photograph caught my eye because — to my surprise — it was a face I knew. It was a cat, one that lived upstairs above one of the aikido dojo in Bangkok, with a quizzical expression and a striking pair of eyes: one green and one blue. Such creatures (called khao manee in Thai) are considered propitious and can fetch appropriately high prices. This one lived an indulged, air-conditioned life with a few pedigree cat friends (although those all had the regulation two blue eyes). It sometimes sat on the stairs looking down on the aikido classes through the smoked glass door to the dojo. So I read the article, which was about the history of Siamese cats. Within it was a throwaway line about the warriors of Ayudhya carrying cats into battle on their shoulders.
Of course, this kicked off a line of research that led me to arrange a meeting with the journalist when I returned to Bangkok. It didn't seem suspicious at the time, but he was a hard man to catch, and after a couple of failed meetings, he suggested instead that I could find out more from Martin Clutterbuck, one of the world's foremost experts on Siamese cats. I contacted Mr Clutterbuck and described the use of cats in battle to him, asking if he could give me more precision on, for example, the provinces where such warriors may have come from, and the kind of training they used to prepare their cats for combat. He replied with a polite but slightly exasperated email saying that if the story had even one shred of truth to it, he would have certainly known of it; but that this was the first he had ever heard of such a thing.
So two things resulted. One is a grudging respect for the bald-faced inventiveness of the journalist concerned. I decline to mention his full name here (Michael Something) because there is honour amongst thieves… I changed "Siamese" to "Burmese," and put the tall tale into the book. It's harder to check the facts of a story based in Myanmar rather than Thailand, you see. Perhaps one day someone will.
Incidentally, I did find one other intriguing precedent of cats being present on a battlefield. Soldiers of one ancient army, marching to do battle against the Egyptians, are recorded as having carried cats with them — not as weapons, but in the belief that the feline-worshipping Egyptians would not strike them, for fear of harming the cats. A human shield, but,well, made of cats. Strange but true.