This year, for the first time, Seni will be in London. It's the UK's biggest martial arts show, and if you've never been, well… hmm, well, it's an interesting day out. You have to go at least once, just to see what you've been missing.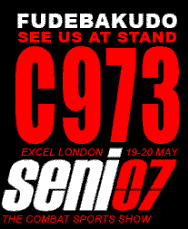 Seni07 is at London Excel (which is easy to get to on the DLR) over the weekend of 19-20 May. See the Seni07 website for more information.
We're Seni veterans — in fact, the Fudebakudo book was launched at Seni03. Here are the reports of our previous attendances at Seni03, Seni04, and Seni05. We didn't go to Seni06 because the demo we had prepared was so lethal, so frightening, that even we couldn't bear to watch it. Besides, our attempts to train the panda to wrestle were running foul of some of the RSPCA's picky regulations.
If you're at the show, come and say hello. Our stand is in the Classical Zone, because, as you know, Fudebakudo is an ancient and sophisticated art. Of course, as well as adding a much-needed sense of inscrutable martial authenticity to the event, we will be selling our ancient and sophisticated T-shirts, giving free postcards to people who ask nicely for them, and signing books.