Seni 2007
Exploding Pen made a daring foray back to Seni in 2007, after giving Seni06 a miss the year before. With the exception of Fudebakudo and the admirable David Rubens and his single, daily Yoshinkan aikido demo, the classical Japanese arts were notable by their absence. Even our kendo and iaido friends were too scared of the kickboxers and lycra-clad wrestlers to show up, and we were left to handle them by ourselves.
Of course, the legendary and fabulous Exploding Pen sales team were the stars of the show. Shoko-san and Nanae-san applied strategy to their sales techniques, which, combined with the ruthless way they were never allowed to stand still or stop smiling, meant that Seni visitors were defenceless in the Fudebakudo onslaught.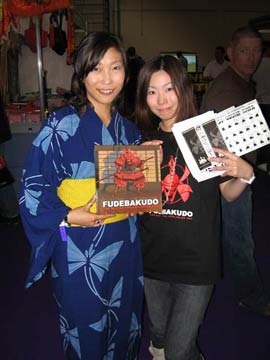 Shoko-san and Nanae-san are smiling, but really they know that if they don't sell another twenty books in the next hour then their business class return tickets to Japan will be torn up
This year the team were handing out postcards and flyers. On one side was the Seni I-Spy game and, on the other, a crossword. We didn't see many examples of the crossword being completed (it was a bit tricky, sorry) but it was great that so many people played the I-Spy game. Our favourite moments were people coming to tell us about the "embarrassing wardrobe malfunction" (trouser split) that had been spotted, as well as the Eye of the Tiger cliché-do demonstration that we had so cleverly predicted.
Seni provided its usual crowd of excellent people, including some very stupid ones. We had fun with three incredibly dim-witted, grunting youths who were frustrated to be told they could not actually have one of our exploding pens until they had trained for ten, maybe twelve, years. But it was great to talk to so many people who are already into Fudebakudo, and if any of you do follow through with that talk of getting a Fudebakudo tattoo remember to send us the photographs. Seni is really the only time we get to meet our readers, and it's that which makes the show worthwhile.
For a little team like ours, Seni is actually remarkably hard work. Shoko-san and Nanae-san were treated harshly and cruelly, because that is the Fudebakudo tradition, and were only allowed to sit down once each day, and that was for 1 minute. But somehow they kept smiling and stealing the hearts and money of Seni visitors.
People who follow our Seni reports will be pleased to know we didn't break either of our tables this time. Tim was a hero with the set-up and break-down, but his photos were frankly useless. Luckily, Matt (who does know how to use a camera) took the photos for us on Saturday. Thanks to all of the team for making Seni07 a success. Fudebakudo ganbatte!