Seni 2003
Exploding Pen launched the book on 26th April at Seni 2003 — the UK's annual martial arts expo, held at the NEC in Birmingham.
In a nail-biting start to the weekend, the books didn't actually arrive until 30 minutes after Seni had flung open its doors to the public. They were still at the printers the day before. Martial arts are all about timing, you see. We are so cool.
Thanks to everyone who came to buy the book. There's little doubt that the martial arts world was stupefied by the force we had unleashed upon it.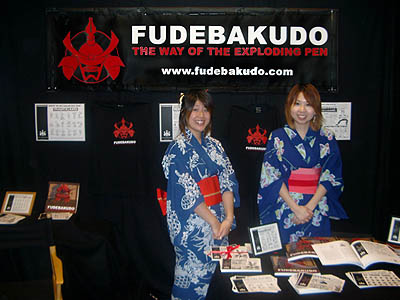 Jun-san and Naomi-san, the undisputed sales sensations of Seni 2003, prepare for a weekend of relentless selling.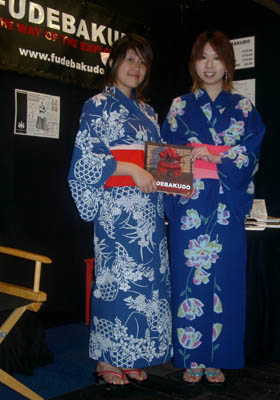 There is a chair on the Fudebakudo stand, but the Japanese sales staff are only allowed to sit on it for 30 seconds for each book they sell (we told them this was for reasons of authenticity — after all, the first chairs were not introduced to Japan until the late 1970s).
To preserve the secrecy of certain Fudebakudo techniques, some photographs of the team in action have been withheld.
We'd also like to thank Nick at Nima, Pete and Suzie for their crucial help backstage.
The next year, at Seni 2004, we had refined our technique, and broke Pete's table.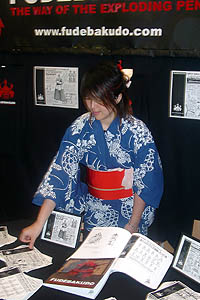 Naomi-san, still standing, artfully deploying postcards and books according to the principles of Sun Tzu's Art of War. Exactly as we had trained her.